In the last decade, the trucking industry has seen significant changes, from demographic shifts to sweeping technological innovations. To stay competitive, trucking companies have had to adapt, often by leveraging the value of their greatest physical assets.
Whether determining optimal strategies for vehicle and equipment replacement and upgrade, refinancing existing debt, generating additional liquidity, or engaging in capital markets transactions, our Equipment Financing & Leasing team leverages its financial strength, regional presence, and industry expertise (including Trucking, Construction, Business Aircraft, Rail, Marine, Energy and Mining) to support your business needs and accelerate growth.
PERSPECTIVES
TRUCKING IS RIDING HIGH – BUT IT'S TIME TO PREPARE FOR THE ROAD AHEAD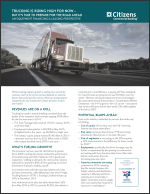 The Trucking Industry is experiencing unprecedented growth; however, much of the industry's success is contingent upon broader economic factors.
Looming interest rate and fuel cost increases, coupled with increasing costs of capital plus environmental and safety regulations, means companies' smart investments in efficient technology today can help trucking companies prepare for continued growth in the face of a changing economic climate.
Download now to explore approaches for success amidst industry shifts.
3 WAYS TRUCKING CAN PROFIT FROM INVESTING IN FUEL EFFICIENCY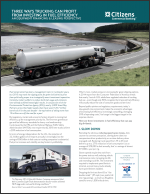 Fuel conservation has been a management topic in trucking for years, but 2015 may mark the tipping point for green initiatives to pivot from politically proper to a strategically smart investment imperative.
Changing regulatory requirements, increasing market pressure for green shipping options, and compelling economic benefits make now the right time to think about greener practices.
Download now to learn how three investments in fuel efficiency can pay big dividends.
THE DRIVER SHORTAGE: CHALLENGES AND OPPORTUNITIES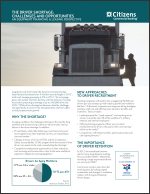 Economic recovery since the Great Recession has both increased the demand for freight and tonnage transport and revealed the seriousness of the driver shortage.
While this challenge is familiar, the opportunity to invest in the next generation of drivers offers a fresh perspective for growth.
Download now for insight into factors furthering the shortage and investment strategies to enhance driver recruitment, retention and alternative practices.