PVH Corporation (PVH) has selected Citizens Bank, N.A., (Citizens) as its Paying Agent to process open account payment requests and pay its suppliers. Suppliers must enroll in this program in order to receive future payments from PVH. This portal will help you to transition to PVH's new supplier Open Account payment program.
As one of the largest and oldest commercial banks in the USA, Citizens offers solutions designed to quickly and efficiently process the documents accompanying your payment request. Citizens also offers an Early Payment Option for immediate liquidity at a preferred discount rate. Click here to learn more about our pricing and early incentive plan.
All the necessary information is on this dedicated portal to enable you to sign up; however, please do not hesitate to contact us at PVHvendorpayments@citizensbank.com should you have any questions.
Supplier Payment Program
Processing Documents
Receiving Payments
Accessing Early
Payment Option

PVH will transmit to Citizens electronic copies of your Purchase Orders (POs) in advance of your shipment date. The POs will be stored in our systems for matching against your subsequent invoices.
Payment to you is fast and convenient. You have the option to email PDF copies of your documents to PVHvendorpayments@citizensbank.com or to courier original documents to our International Trade Operations Center.
Your invoice, draft and accompanying documents will be examined to PVH's specifications and compared to the PO terms.
PVH will then accept your draft and communicate their payment approval to Citizens.

Citizens Bank will notify you as to the date payment will be made by Citizens Bank on behalf of PVH.
You can elect for payments to be made in US dollars (USD) or home currencies, where permissible.
Payment will be made at the maturity date, reflecting PVH terms and deductions for processing fees.

Suppliers can elect to receive immediate payment, at a preferred discount, by electing to sell the accepted draft to Citizens or by waiting to be paid at maturity.
Suppliers have the option to receive early payment on all invoices, on selected invoices, or to wait until maturity on all invoices.
Supplier Benefits
Suppliers receive best-in-class pricing, information security and service when processing with Citizens Bank.
Pricing/Payments

Competitive preferred pricing.
Suppliers benefit from a new low cost source of liquidity. Frees up your borrowing capacity with other lenders.
Accelerate cash flow by receiving non-recourse payment and shorten days for sales outstanding.

Convenience

Non-recourse sale of your draft to Citizens provides early payment with no credit line utilization, no new account to open and no up-front complicated legal agreement.
No complicated enrollment process or upfront costs.
You only need to submit an endorsed draft to Citizens along with our completed and signed cover letter accompanying your invoice(s) and other required commercial documents.
Getting Started

To inquire about paper document submission, contact us.
Please review the following materials, including information sheets, pricing details and forms required to initiate your PVH payments through Citizens Bank: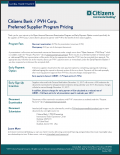 Pricing and early incentive plan: Find full details on pricing and an early payment option to receive your payments faster. Sign up now to capture pricing rates before promotional incentives expire.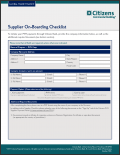 Supplier checklist: Use this form to share basic company information and prepare required documents to initiate your PVH payments with Citizens.
To establish your PVH invoice and payment processing with Citizens Bank, we require you to download, complete and upload scanned copies of the following items:
Completed supplier checklist
Government-issued certificate of corporate existence or Business Registration Certificate or equivalent document, as appropriate for country of jurisdiction
To upload files, click "Add" and browse to the file you want to upload. After all of the files are added, click "Upload" to upload the files. Files of type Adobe Acrobat (.pdf), Microsoft Office (.docx, .doc, .xls, .xlsx, .ppt, .pptx), images (.gif, .jpg, .png) and text (.txt) can be uploaded. Maximum file size is 5 MB per file.
The following documents are required with each presentation:
A Citizens cover letter, Open Account Form – PVH Corp., is required for all presentations. This document must be completed and attached to all payment presentations under the PVH program.
Original Draft/Bill of Exchange issued by the Vendor named in the Order
Original Commercial Invoice issued by the Vendor named in the applicable Order number quoted on the invoice
Original Packing List including a Summary Page issued by any party
Original Inspection Certificate issued by any party
Either Forwarders Cargo Receipt or Air Waybill
In addition to the above documents:
For shipments destined for the United States the following are also required:

1. Original PVH Certificate of the C-TPAT Shipment Security Form issued by the applicable Vendor (Note: all boxes must be completed).

2. Original General Conformity Certificate issued by any party.

For shipments destined for Canada the following is also required:

1. Original Canadian Customs Invoice (CCI) issued by any party.
All original documents must appear to have been signed by their respective issuer. Packing List does not need to be signed.
Submissions of copies of the original documents are acceptable via e-mail when presented in a .pdf format.
Documents will be examined in accordance with the Open Account Standard Document Preparation and Checking Requirements For PVH Corp.
How to Contact Us
If you have any questions on how to establish your PVH supplier payments process or regarding the accessGlobal Trade Flow platform, please contact:
For assistance in setting up PVH invoice and payment processing with Citizens Bank
Brian Hurley
Senior Vice President
Global Trade & Supply Chain Finance
Phone: +1 617-994-7010
Fax: +1 781-583-7039
brian.e.hurley@citizensbank.com
For processing documents and payment inquiries with Citizens Bank
Kelly Morse
Operations Manager
Global Trade Services
Phone +1 781-655-4369
kelly.j.morse@citizensbank.com