Citizens Commercial Banking, one of the nation's leading commercial banking institutions, is a division of Citizens Financial Group Inc. (NYSE CFG) and a Top 15 U.S. commercial bank with $137.3 BN in assets (as of June 30, 2015).
The Commercial Bank offers a full suite of depository, treasury, risk management and global trade solutions and has both a strong capital position and appetite to lend. With the expertise to structure a range of financing solutions, the commitment to providing unbiased advice and the consistency in delivering exceptional service, Citizens is proud to serve a range of industries.
Our Law Firm Banking practice delivers financing products and solutions that address the specific business needs of your firm. Well versed and networked within the legal community, our dedicated team works closely with bar associations in your markets to maintain fluency on high impact issues.
RECENT HEADLINES
In tracking the trends most relevant to your firm, we've highlighted two recent articles addressing information security and IOLTA issues.
What Banks Need From Law Firms, Massachusetts Lawyers Weekly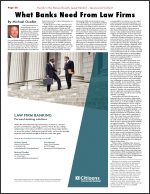 Banks and financial institutions in Massachusetts pay law firms millions of dollars for services annually. In return, banks require their law firms to have rigorous information security systems and practices in place to protect client information.
Read Massachusetts Lawyers Weekly's coverage of our article explaining some of the best practices that law firms need to put into place to gain and maintain financial institutions as clients.
What's In Your Wallet?, Massachusetts Lawyers Weekly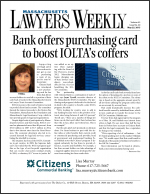 The combination of the low interest rate environment and economic downturn has strained IOLTA revenue.
To address this greater need while serving the specific financial objectives of law firms, Citizens has launched a purchasing card that allows account holders to send a portion of or all cash back rewards to the Massachusetts Interest on Lawyer Trust Accounts Committee.
Read Massachusetts Lawyers Weekly's coverage of this new P-card, the rate rebate structure and other associated, industry-specific benefits.
PERSPECTIVES
Explore strategies and best practices for managing a successful law practice by downloading these Perspectives.
The Hidden Profit Opportunity in Payments for Law Firms
Law firms are working harder than ever to win new business and retain existing relationships. For many firms, these challenges have inspired a heightened focus on maximizing the value of every dollar earned. Payments solutions can aid in this effort by:

Improving expense recapture for client billing
Making required client- and case-specific reporting easier to create
Supporting negotiation of better prices from vendors and suppliers, and
Shortening the receivables cycle

Download now to explore several easy payment options to improve your profitability.
3 Financial Strategies that Can Power Professional Services Profit
Professional services leaders seeking to maximize profitability and growth need to look beyond their core expertise to instill a firm-wide commitment to financial discipline. More efficiently integrate business and financial objectives by:

1. Tightening the liquidity reigns
2. Applying best practices in financial planning, and
3. Choosing appropriate financing options to fund growth plans

Download now to gain 3 strategies for enhancing profitability.
GET IN TOUCH
To find out more about our capabilities and how our industry experience could be of value to your company, please download our information sheet and contact me.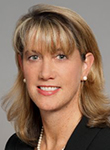 Lisa Murray
Senior Vice President
Professionals Banking
(617) 725-5667
lisa.murray@citizensbank.com
Connect with me on LinkedIn