We see 2017 as a busy year for both Buyers and Sellers. Many Buyers have come to realize they can no longer wait for organic growth and that M&A may be the best, or even the only, strategy to achieve meaningful revenue growth in 2017. And many Sellers are eager to take advantage of valuations while they are still high.
CITIZENS M&A INSIGHTS
Explore strategies and best practices for managing successful M&A initiatives by downloading these insights covering topics of interest to both buyers and sellers.
PERSPECTIVE:


WHY M&A DEALS BREAK DOWN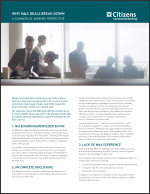 According to Dealogic, in the first half of 2016, the U.S. has already seen the highest withdrawn M&A on record with 59 deals worth $462.96 billion drop out of the market. It makes sense then that 2016 has been dubbed the year M&A deals failed.
Download our newest Perspective to gain insight into 5 common deal-killers. With the significant costs and diversion of resources associated with M&A, companies need to understand and avoid these pitfalls to get the deal done.
PERSPECTIVE:


4 TIPS TO SUCCESSFULLY SELL YOUR BUSINESS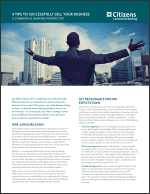 Our recent M&A Outlook 2016 revealed that a third of the middle market business owners surveyed are currently considering or in the midst of selling their business. Because selling a business can be an incredibly distracting and arduous process, it's essential for owners to plan their strategy for getting the most out of the sale.
Download our recent Perspective to gain insight into four key components to consider when developing your strategy for selling your business.
PERSPECTIVE:


3 REQUIREMENTS FOR TRANSFORMATIVE M&A DEAL SUCCESS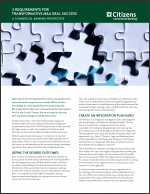 After streamlining operations and increasing efficiencies over the past few years, many companies now consider transformative M&A deals to be their best strategy for realizing significant growth. While these deals have strong growth potential, they're also the most difficult M&A transactions to successfully complete.
Download our recent Perspective for insights on the three key areas that companies should focus on to set themselves up for M&A integration success.
PERSPECTIVE:


THE M&A MINDSET OF THE MIDDLE MARKET CEO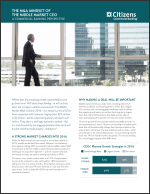 Middle market CEOs are optimistic about reaching their growth goals in 2016. In fact, in our recent survey, 2 out of 3 buyers indicated they are focusing on transformative M&A deals to maximize their company's growth potential. On the other hand, sellers are ready to make a deal before the volatile market sends valuations down further.
Download our Perspective to learn why 2016 is the time for middle market buyers and sellers to reach agreement on corporate valuations and close deals before market dynamics change.
PERSPECTIVE:


THE BOOM'S NEXT ECHO: 6 TRENDS TO WATCH IN MIDDLE-MARKET M&A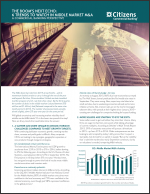 At the start of 2015, the middle-market M&A boom looked unstoppable. Then came a slowdown in China, a global surge in volatility and growing risk of a Fed rate hike. In the face of all these developments, can the boom maintain its momentum – or is the market headed for a cool down?
Download now to examine 6 trends that may drive the pace and scale of M&A activity in the year ahead.
PERSPECTIVE:


THE 2015 MIDDLE MARKET MINDSET: WHAT'S DRIVING DEAL FLOW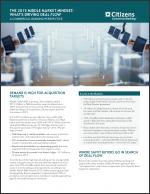 Closing its strongest quarter since 1Q 2000 with $414.7 billion in U.S. transactions alone, middle market M&A activity has soared. With the combination of available debt financing, private equity exits and corporate liquidity thanks to rising profits, momentum is expected to continue – if only seller activity wasn't so slack.
Download now to discover not only where to look for deal flow, but also how to capture it by understanding the mindset of today's sellers.
PERSPECTIVE:


10 TRENDS TO INFORM YOUR MIDDLE MARKET M&A STRATEGIES IN 2015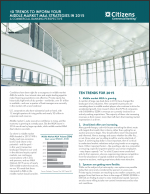 Middle market M&A is growing; unsolicited offers are increasing; sponsors are exhibiting more flexibility. These and other exciting trends are driving increased activity and resurgence in the M&A middle market landscape. Buyers and sellers with thoughtful corporate strategies and a disciplined approach are likely to find accretive opportunities in the coming months.
Download now to see the 10 trends that are propelling strategics and financials alike to vigorously pursue acquisitions.
PERSPECTIVE:


THE NEXT EDGE IN M&A: LEVERAGING SOCIAL MEDIA & BIG DATA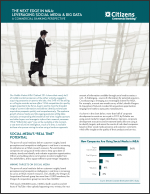 Social media and Big Data analytics are growing in importance for M&A professionals. Buyers and sellers alike are tapping these tools to gain speed and depth in M&A research, due diligence and implementation. Find out why more than half of corporate development executives are using social media today.
Download now to learn how both buyers and sellers are using social media and Big Data to inform their M&A activities.
PERSPECTIVE:


M&A: THE ART OF THE DEAL, THE SCIENCE OF SUCCESS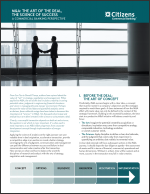 Success in M&A comes from more than numbers. But with thousands of hours often invested in running analyses to consummate a single deal, the value of the arts of judgment, negotiation and management can be overlooked.
Download now for a roadmap that outlines how to balance science and art across each of the six phases of the M&A process.
PERSPECTIVE:


THE POWER OF NO IN DRIVING LONG-TERM VALUE IN M&A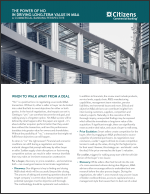 Reaching agreement in an M&A transaction is usually a cause for celebration. But the success of a deal is defined by what happens after the papers are signed. Acquirers expect to perform better with the transaction than they would have without it. When "no" is forgotten as an option in the heat of negotiations, a deal unlikely to drive better results can become an unfortunate reality.
Download now to learn when "no" is a powerful alternative for buyers and sellers focused on long-term value creation.
PERSPECTIVE:


AVOIDING BUYER REMORSE IN M&A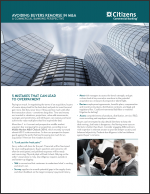 No buyer wants to pay too much for an acquisition. Most will invest substantial time and money to inform their assessment of the value of an asset and guard against overvaluation. But in the heat of a deal, even an experienced buyer can overlook important details and be tempted to sweeten the offer to reach the finish line. The pressure to reach agreement – particularly when negotiations are prolonged – can magnify the risk of paying more than an acquisition warrants. A checklist of overpayment traps can help buyers avoid later remorse.
Download now for a checklist of common mistakes that lead to overpayment and how to avoid them.
PERSPECTIVE:


THE GREATEST SELL-SIDE RISK IN M&A: UNDERVALUATION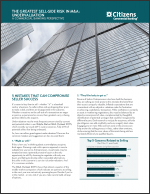 In an M&A transaction, a seller's worst fear is being underpaid. In our previous national survey, the Middle Market M&A Outlook 2015, 45% of potential sellers said undervaluation was their greatest concern. But many sellers don't arm themselves with the techniques that can guard against erosion of value. For example, many fail to build a broad enough array of deal alternatives and financial strategies. Learn how preparation, partial sales and positioning can protect your valuation in a sale.
Download now to learn how potential sellers can avoid the 5 most common mistakes that lead to undervaluation.
CITIZENS M&A VIDEOS
View these videos to gain expert insights on key M&A topics.
VIDEO:


MIDDLE MARKET M&A: HOW AND WHY IT'S DIFFERENT

Inorganic growth is an important strategic dimension for almost all companies. However, when it comes to the middle market, there are both unique considerations and applications.

Watch now for insights into our relationship-driven approach to middle market corporate development. Leveraging a range of industry expertise and a deep knowledge of clients' businesses, our team delivers customized solutions and agnostic execution in an effort to maximize shareholder value at each stage of the corporate lifecycle.
VIDEO:


THE IMPORTANCE OF PRIVATE EQUITY

With 25% of corporate America owned by private equity firms, commercial and investment banks must be well versed in the private equity climate to remain credible advisers to both the business and sponsor communities.

Watch now for more detail on the current inflection point in private equity. Also, learn more about our commitment to the sponsor community, as evidenced by Citizens being the 6th largest provider of leveraged finance in the middle market.
CITIZENS M&A ANNUAL OUTLOOK
2017 POST-ELECTION M&A OUTLOOK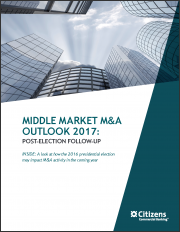 Since the Citizens M&A Outlook 2017 results were captured prior to the 2016 election, we conducted a follow-up survey to learn how the same middle market decision-makers' outlooks might have changed since then.
Download this brief but insightful report to gain insight into decision-makers' revised M&A thoughts and plans for 2017.
MIDDLE MARKET M&A OUTLOOK 2017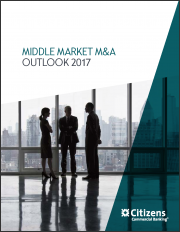 Review the findings from our annual survey of 600 middle market CEOs and business owners to understand the economic factors and business issues that are shaping where the M&A market is heading in 2017, including:
What's fueling M&A momentum for both Buyers and Sellers
Why growth through acquisition is seen as the best strategy
How regulations are impacting M&A activity
Why more Buyers and Sellers are seeking help from third party advisors
Download this report to see analyses, statistics and graphics that indicate where middle market M&A is headed in 2017.