With over 20 years of experience supporting Aerospace, Defense & Government Services providers, our dedicated team of bankers has earned a reputation for unparalleled responsiveness, objective and practical advice, and an in-depth understanding of what it takes to offer mission-critical and consultative services. Our expertise in the services sector enables us to design and execute financial strategies that support operational efficiency, organic growth strategies and M&A initiatives to help our clients achieve their goals.
CITIZENS COMMERCIAL BANKING INSIGHTS
PERSPECTIVE:
Strategies for Taking Advantage of the Historic DoD Budget Increase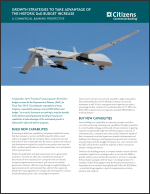 Exceeding the expectations of many, Congress passed a nearly $700 billion defense budget. As a result, businesses are seeking to reap the benefits of this defense spending boost by building or buying new capabilities to take advantage of the anticipated growth in high-profile, high-tech defense programs.
Download now to gain insight into the timelines, strategies and financing realities companies should consider when pursuing government contracts or considering the acquisition of a company that already has one.