Our dedicated Convenience & Fuels Group has a deep understanding of your industry and the challenges you face – including margin pressure, volatile pricing and unpredictable cash flow. With an average of 15 years of experience in this industry, our tenured bankers have the market insights required to assess your needs, take action quickly and support you in reaching your long-term goals.
CITIZENS COMMERCIAL BANKING PERSPECTIVES
Trend Tracker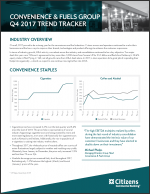 Emerging trends, as well as changes in commodity prices and the financial environment, can directly impact the growth plans for c-store operators. To help you keep a finger on the pulse of the industry, we compile statistics related to those dimensions on a quarterly basis.
Download now and find out what impacted the industry in Q4 and what operators can expect in 2018.
A Favorable Cash Dilemma for C-Store Operators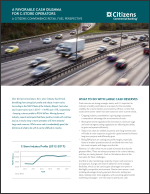 The c-store industry had a record breaking year in 2015 – and is forecast for another in 2016. As a result, operators have more cash on hand than ever before, but deciding what to do with it can be a challenge.
Download now and find out what to do, and what not to do, with your increased cash reserves.
Millennials and Foodservice: An Opportunity for C-Store Evolution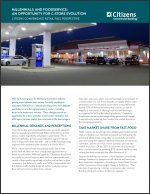 The maturing Millennial Generation has different attitudes and behaviors especially within the realm of foodservice. Their increasing influence and spending power signals an opportunity for c-store owners to reimagine their foodservice offerings to better cater to Millennials in order to increase market share and their bottom line.
Read our Perspective to learn how c-store operators can best take advantage of a new generation's shift in tastes.
Protect Your Bottom Line as Interest Rates Head Up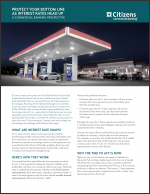 As the Fed raises rates, c-store operators can expect their variable rate loans to cost them more. However, by utilizing interest rate swaps, a c-store operator can still obtain peace of mind by obtaining a fixed rate. And If rates continue to rise as expected, they can save thousands.
Download now for insight into how operators are incorporating technology to expedite the payment process and keep customers satisfied.
Consolidation in the Convenience & Retail Fuel Sector: Strategies for Capturing Value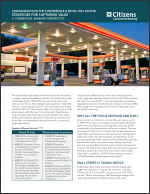 The increased demands of daily life have made one-stop shopping a consumer imperative. Combining ease, product diversity and location centrality, the convenience and retail fuel space has attracted significant investor attention and seen consolidation among both strategic and private equity buyers.
For experienced operators, there are opportunities to take advantage of this consolidation wave by exploring 3 key strategic approaches:
Prepare to buy, keeping an keen eye towards assets held by inexperienced owners that may become available at a discount
Prepare to sell, maintaining financial and operational fitness to best position your operation for sale
Prepare to defend, protecting and growing market share through continued optimization and strategic innovation
Download now to explore approaches for success in the shifting convenience and retail fuel market.