Citizens Healthcare Banking provides differentiated, competitive debt financing, idea-driven capital solutions and traditional banking products to established and emerging growth companies as well as private equity-backed portfolio companies.
Powered by the strength of a Top 15 U.S. commercial banking institution and driven by deep industry insight, our Healthcare Banking team delivers an array of products to manage liquidity, interest rate volatility and currency risk in a sector defined by a constantly changing regulatory and reimbursement environment. These dynamics have only become more challenging as the industry manages the impact of COVID-19.
HEALTHCARE BANKING INSIGHTS
PERSPECTIVE:
APPLYING DIGITAL TECHNOLOGIES TO PROFIT FROM CHANGE IN THE PHARMA INDUSTRY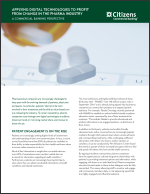 Outcomes-based care is becoming the industry standard and patients are becoming increasingly involved in their healthcare and treatment plans. These changes are fundamentally impacting the way pharmaceutical companies do business. Pharma companies who want to improve and protect their revenue and market share must be willing to adapt and use technological resources to do so.
Download our newest Perspective to gain insight into how pharma companies can embrace technologies to profit from the evolving industry landscape.
PERSPECTIVE:
HOW VALUE AND CONVENIENCE ARE RESHAPING THE DELIVERY OF HEALTHCARE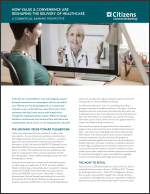 Today, patients are demanding convenience and value when seeking healthcare services, and they are driving healthcare professionals to meet these changing preferences. In the past, patients would see their healthcare professional in-office, but today's healthcare consumer has options. Now they can receive care through telehealth, in the retail clinic down the street, or through self-monitoring with apps and devices. This new frontier of healthcare delivery will make it necessary for healthcare practices to adapt and respond.
Download our Perspective to gain insight into what healthcare professionals can do to embrace and profit from this growing trend.