Citizens Healthcare Banking provides differentiated, competitive debt financing, idea-driven capital solutions and traditional banking products to established and emerging growth companies as well as private equity-backed portfolio companies.
Powered by the strength of a Top 15 U.S. commercial banking institution and driven by deep industry insight, our Healthcare Banking team delivers an array of products to manage liquidity, interest rate volatility and currency risk in a sector defined by a constantly changing regulatory and reimbursement environment. These dynamics have only become more challenging as the industry manages the impact of COVID-19.
HEALTHCARE SECTOR & DEBT MARKET UPDATE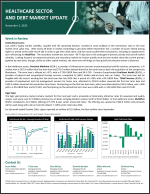 Read this edition of the Healthcare Capital Markets Update to gain insights on the latest news impacting this industry.