With an average of more than 15 years experience supporting restaurant operators, our dedicated Restaurant Finance bankers understand the opportunities and pressures of the business. As a leading national lender to restaurant owners our focused expertise allows us to quickly assess your unique financing needs and provide both practical advice and dependable solutions.
CITIZENS COMMERCIAL BANKING INSIGHTS
PERSPECTIVE:
A RECIPE FOR SUCCESS: TECHNOLOGY AND THE RESTAURANT INDUSTRY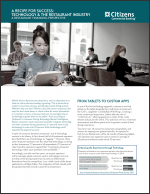 As technology plays a larger role in consumers' everyday lives, restaurant operators are leveraging technology as an investment for growth and consumer satisfaction.
Download now for insight into how operators are incorporating technology to expedite the payment process and keep customers satisfied.
PERSPECTIVE:
RESTAURANT TRENDS: A POSITIVE GROWTH OUTLOOK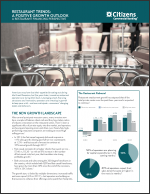 The restaurant sector has rebounded from the Great Recession due in part to operators' nimble response to changing consumer behaviors – from taste to expanded dayparts to technology. And the investor community has taken notice, resulting in further sector growth.
Download now for an overview of market trends and gain insight on staying competitive in this dynamic and demanding restaurant environment.