Citizens Technology, Media & Communications Banking team provides differentiated, competitive debt financing, idea-driven capital solutions and traditional banking products to emerging growth companies, large well-capitalized corporations and private equity-backed portfolio companies.
Powered by the strength of a Top 15 U.S. commercial banking institution and driven by deep industry insight, our team delivers an array of products to meet the ever-changing needs of Technology, Media & Communications companies.
TECHNOLOGY, MEDIA & COMMUNICATIONS INSIGHTS
Perspective:
3 Strategies for Long-Term Success in the Tech Industry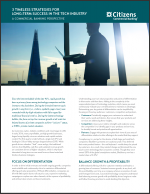 In the past, tech firms have prioritized growth over profitability in the hopes of being acquired or to go public. In today's market however, firms are now focusing on profitability in order to give their companies the best chance for long-term success.
Download now to learn three essential areas of focus for tech firms looking to achieve long-term success.